Please Note: This post may contain affiliate links, which means that if you make a purchase, I might make a small commission at no extra charge to you. I only recommend products or services I believe will add value to my readers. Please read my full disclosure for more details.
With warmer weather finally heading to NY this Glam Beach house design in Rockaway Beach, NY is a good one to talk about. I worked with my girlfriend on this project who is very much a DIYer. The plan was to reuse/ paint some of her existing pieces and then add new items to change the look and feel out of the Tuscan Trend and into the Glam Beach light and airy look she was now going for.
This project is still in the works since we did it in phases but once it is complete I'll be sure to post the reveal photos!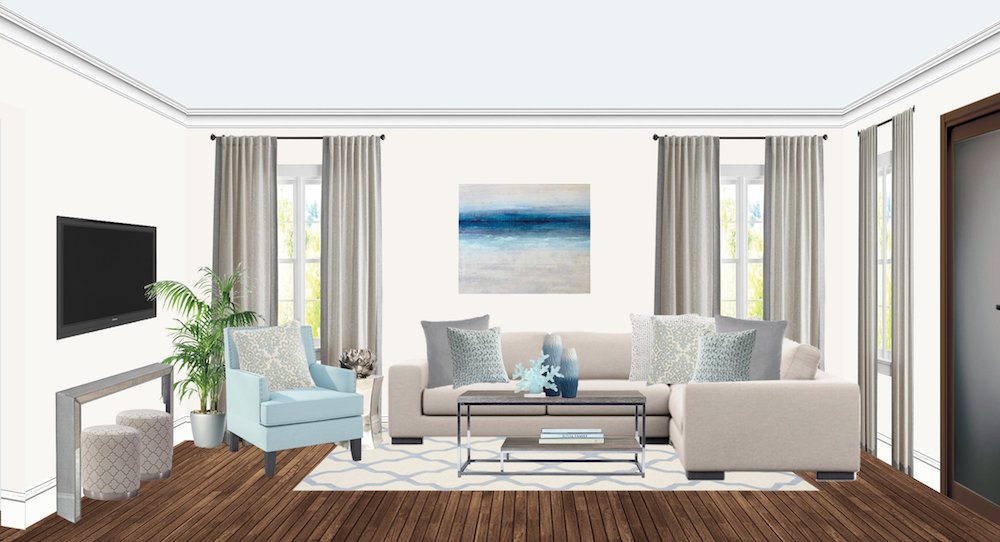 For the Living Room, we went with the Ainsley sectional from Interior Define. Since I sourced from this vendor regularly as a Havenly designer I was familiar with their products. After visiting the showroom with my girlfriend we changed the original sectional style and fabric selection because again when you are able to see things in person rather than online things look different. As mentioned in the past it is really important to me to visually touch and feel products after having spent the past twenty-three years designing clothes on the computer. There is something to be said about visually seeing the texture, scale, color, and look of a piece in person.

The timing for the sectional delivery is 8-12 weeks out which is pretty standard for custom (pick your own fabric) furniture. Given the timing I told the client I would also find out what the price would be on a Duralee custom sectional. I had already planned to visit the showroom to get a custom chair quote, pricing on wallpaper and the fabric I had selected for the project. Once I received the quote for everything I had to let the client know it was not in budget. While I love the option of a custom sectional with thousands of fabrics options after receiving the quote I will reserve that for the higher end luxury client who has more disposable income in their budget.
For the Dining Room my friend painted her chandelier in silver which turned out beautiful. She also painted her furniture in Annie Sloan Chalk Paint in Pure White. My girlfriend has painted and sold furniture in the past through her business Double Arrow Design so she is very experienced with the process.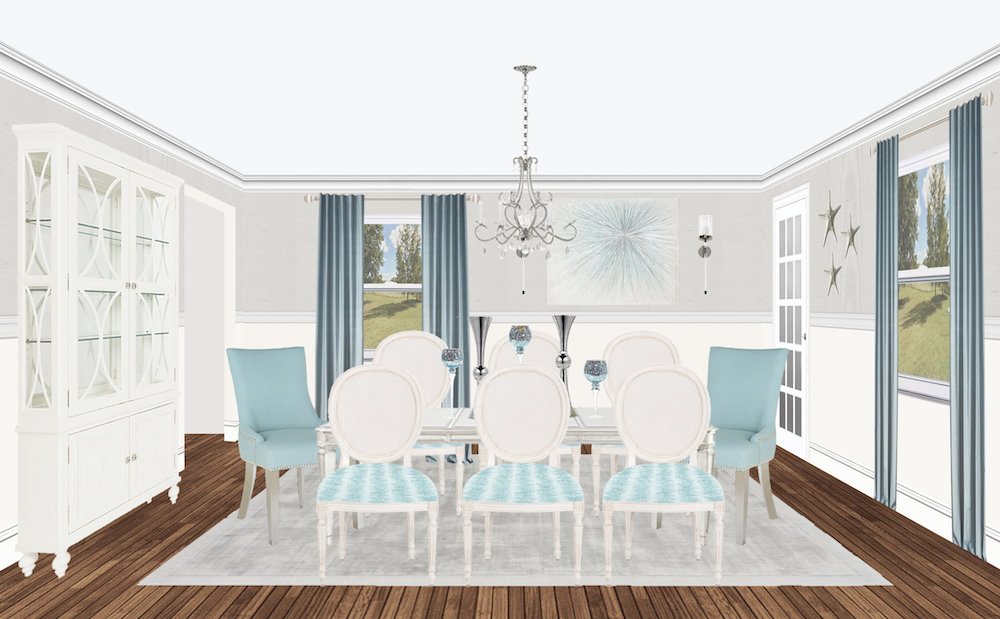 Once her dining chairs are painted she will recover the seat cushions in a stripe ikat pattern which the color scheme of the room was based off. For the two captain end chairs again I received a quote from Duralee but they will not be in budget either. I was able to source a set of blue chairs with silver nail heads that will work within the budget.
The legs on the chairs are a dark espresso so they will be painted in silver (as shown) to add a glam element.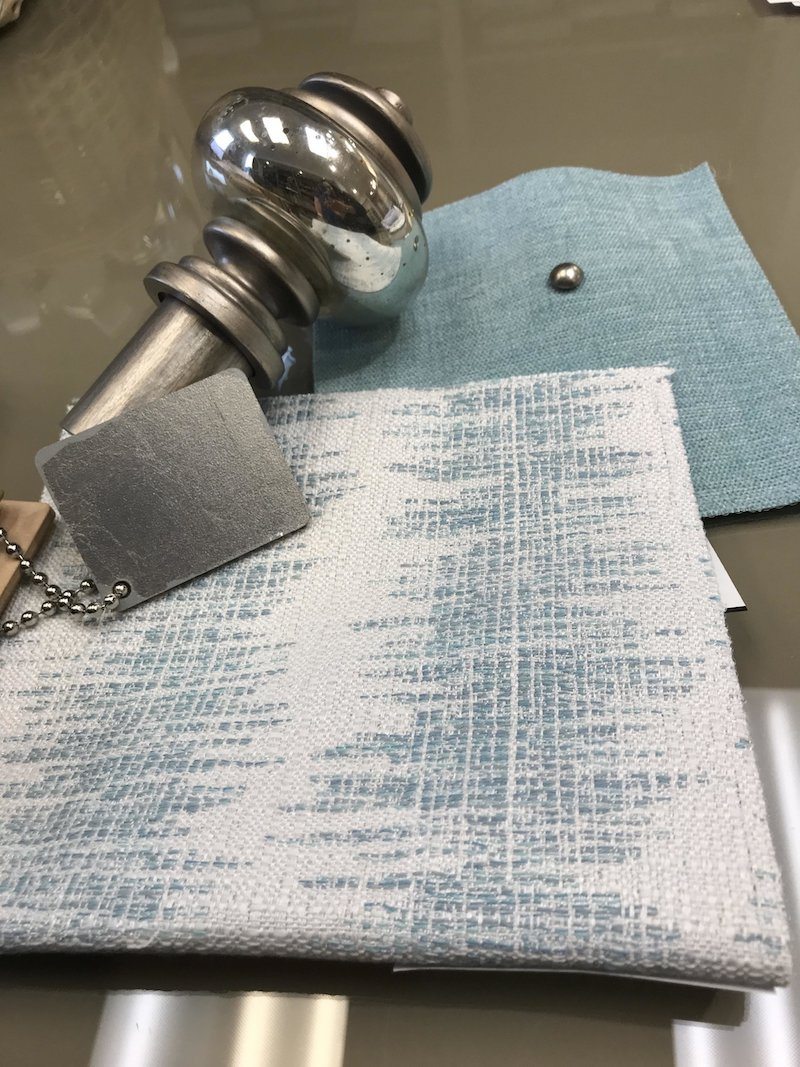 The price on the gorgeous grasscloth wallpaper which has a touch of shimmer for above the chair rail will work in budget which was awesome news!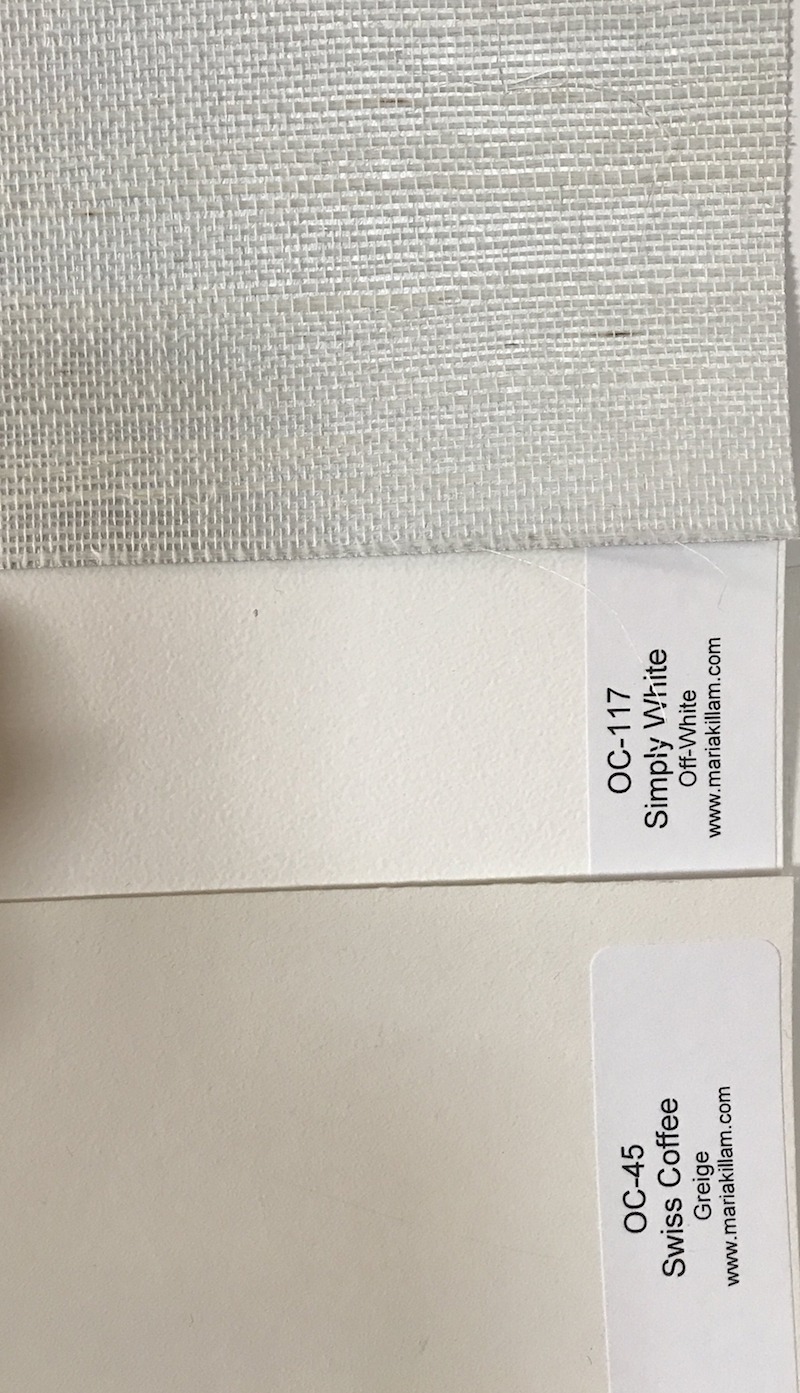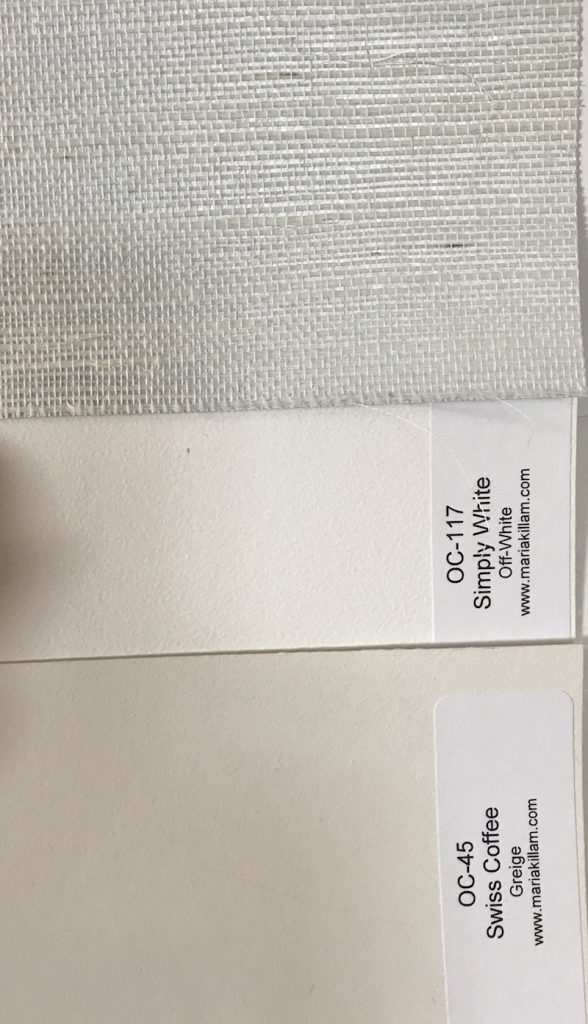 We visited Mood Home in NYC for this project also. Think project runway but with home fabrics! Since the fabric I priced from Duralee was on the higher side we wanted to see what other option there were for recovering the kitchen bar stools that would also be painted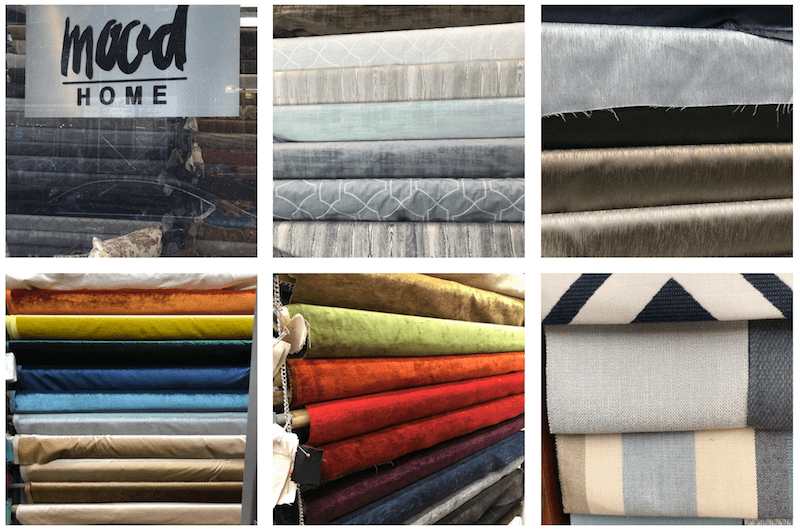 Here is the Sunbrella fabric that was ordered for the stools along with the nail heads and cording they have for sale at Mood.

Overall this project was a lot of fun and totally changed the look and feel of the space from outdated Tuscan to updated Beach Glam.
If this is a look you would like in your home be sure to reach out to us HERE .
We'd LOVE to help!
Please comment and share this blog post with anyone you think will enjoy it! #sharingiscaring
As always please continue to follow the journey through our Instagram Stories and Facebook updates where we will continue to share behind the scene videos and findings.
Have an Inspired evening everyone!
xo Nicole
#beinspired