Please Note: This post may contain affiliate links, which means that if you make a purchase, I might make a small commission at no extra charge to you. I only recommend products or services I believe will add value to my readers. Please read my full disclosure for more details.
---
This post is all about modular pit sectionals that will make you want to stay home.
Note: My blog periodically contains affiliate links meaning that if you make a purchase, I might make a small commission at no extra charge to you. Purchases made through them are greatly appreciated.
Are you looking to create a relaxing space to unwind after a long day?
If you have been following along you would have learned about two options for the pit sectional yesterday.
While Beckham and the Cloud are great there are also others to consider when choosing modular pit sectionals.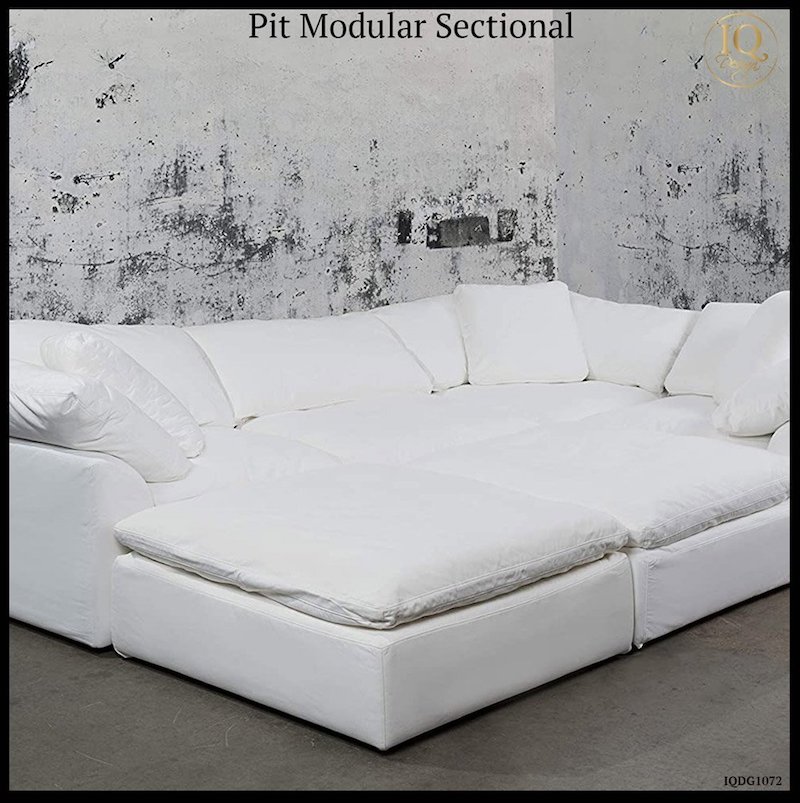 Like this one from Wayfair:
Sunset Trading Cloud Puff Slipcovered 6 Piece Modular Sectional on sale for $7099.99 (only 6 left in stock BTW)
Mielke Modular Pit Sectional is truly as comfortable as it looks. Close your eyes, imagine you are floating on a cloud, enjoy this feeling of total relaxation in your home, loft or apartment with this cool collection. The contemporary low frame makes this sleek piece ideal to bring your open living spaces together. So versatile, instead of a futon in your dorm, spare bedroom or home office, feather pillow-top seating supported by inner springs make this as cozy as a bed. Build your own- modular left or right facing, corner sectional. Create the ultimate laid-back lounge that conforms to your room. Perfect for kids, pets, and parties, unexpected spills will roll off the washable soft fabric slipcovers. This is simply the best family room furniture ever.
There is also this version Cloud Puff 5 Piece Modular Performance White Sectional Slipcovered Sofa on Amazon by Sunset Trading for $4895
---
Then there are all these options at a variety of price points.
Like To Know It Board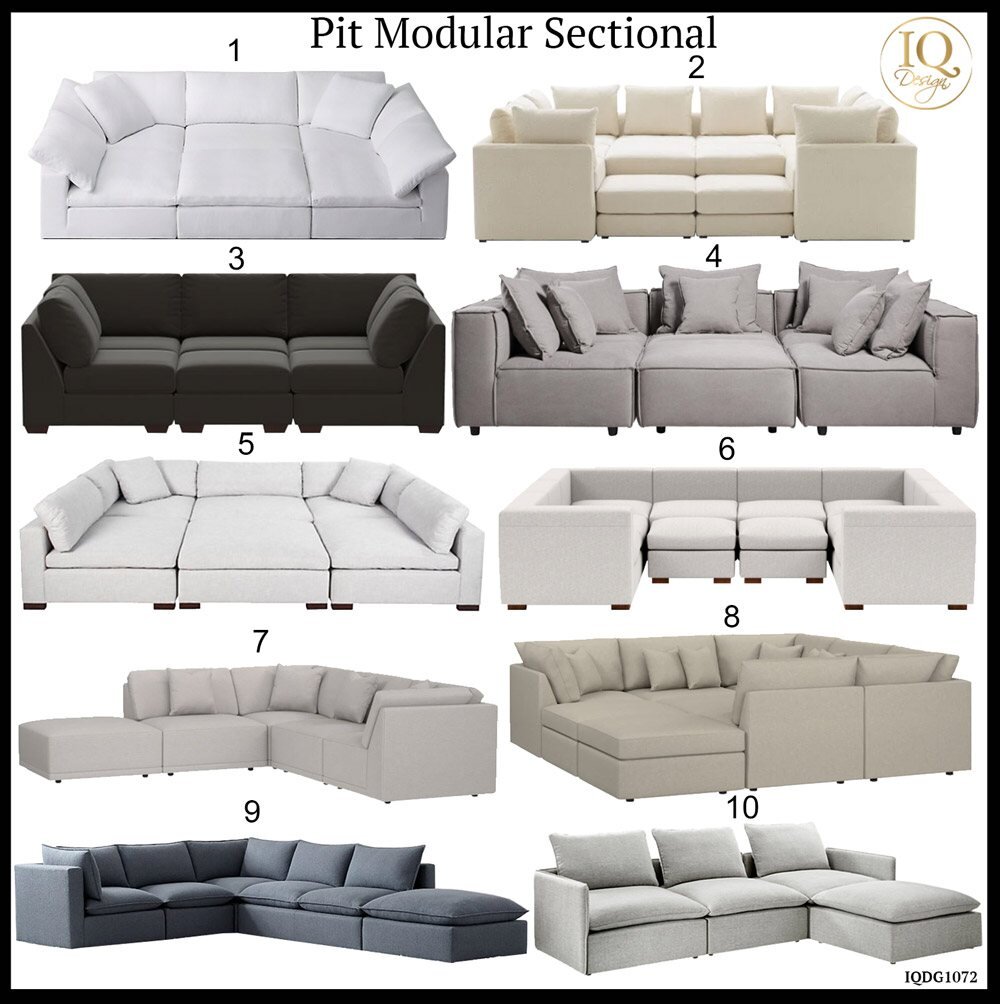 Modular Pit Sectionals:
Sunset Trading Cloud Puff Collection is truly as comfortable as it looks. Close your eyes, imagine you are floating on a cloud, enjoy this feeling of total relaxation in your home, loft, or apartment with this cool sectional.
Check out yesterday's post for way more details on the Cloud. It's super comfy and a great option. Definitely not the least expensive but if you have it like that it's super cool!
Our modern interpretation of a disco-era classic, this pit-style sectional collection allows for endless configurations, ranging from massive to mini. Push pieces together for a free-for-all slumber party of epic proportions, or pull them apart to form intimate seating arrangements, perfect for adult conversation and cocktails.
Love that the front ottomans in this pit sectional are lower to allow for easy entry and added interest.
With its modular design and slightly smaller footprint, the Burnett Collection works well in any lounging area, whether a living room or a playroom. The space-saving ottoman provides storage for throws, toys, or remotes.
This one is from Pottery Barn which is more of a modern vibe. Other color options available in the link.
Boho Comfort for Any Space – A casual-chic silhouette you'll never want to leave—our Coburn Sectional's oversized frame is perfectly complemented by generously plush, down-filled pillows covered in relaxed, heavy stonewashed denim for an unexpected edge. This sectional's soft, modular design brings next-level comfort to any space, allowing you to create any arrangement in both small and spacious living rooms.
This one from Arhaus is more modern and had a relaxed chill-out vibe to it. Kind of reminds me more of what would be in an urban space. Like a Soho loft or Brooklyn townhouse.
Take comfort in this fully upholstered, linear collection that has modern loose-back cushions. The wide arms and back are upholstered by hand using a multi-step process that gives them a one of a kind design.
Zgallerie tends to skew more luxe glam and this style does not disappoint.
Toby is our first fully modular collection. Choose a single chair, build a sofa or pit sectional, or build your own unique configuration. Toby's assortment of the chair, chaise, and ottoman units are all sized to easily mix and match, allowing you to arrange and rearrange to suit your shifting needs.
I think this is just a cool vibe shot!
A sleek and contemporary modular sectional, the Knox offers numerous seating arrangements. Knox provides great seating comfort with a plush loose box back and a tight seat cushion featuring a lower seat height.
I love the Knox sectional from Bassett but did not sell one in my time there which I was very sad about. It is lower than Beckham and more modern which I really like. The clients I had not so much! The seat cushions are NOT removable so keep that in mind if it's important to you.
The all-welcoming Beckham Pit Sectional is a modular sectional offering endless possibilities to be as large or small as needed. All 9 pieces are top-stitched for durability, with weltless box seat cushions and loose knife edge back. Back and seat cushions are removable for easy cleaning.
Check out yesterday's post for way more details on the Beckham which is my favorite from Bassett. It's great for the transitional home to a more modern. She goes on sale for a great price occasionally and is so worth the investment cost.
Scaled-down to suit smaller-sized spaces, our popular Lotus sectional strikes the perfect balance between clean, modern style and ultra comfort. Nestled on a low shelter frame, plush pillows are key to this sectional's lounge-worthy luxury, packed with an extravagant fluffy down blend and just the right amount of inner support to keep it looking crisp. Just fluff and rotate to keep Lotus looking company-ready.
This one from Crate and Barrel reminds me of the cloud. I love the style of the flange detailing on the cushions.
Sink into the ultimate crash pad made extra luxe in linen. Formed of four modular pieces, the sectional's low frame and deep, pillow-topped cushions encourage lounge sessions for a crowd. Washed, super soft grey linen maximizes the comfort factor, while piping welt adds a clean finish. A hidden clip system keeps sofa cushions in place. Arrange and rearrange sectional pieces to fit your changing needs.
Love CB2 and while this one is not advertised as a "pit" sectional you can create that look for sure.
Too many modular pit sectionals to choose just one!
---
Product Link Details + Extras:
As you can there are many options in the modular pit sectional category.
I'm staying on this topic a little because it was a popular one when I was at Bassett.
I even had a client looking at a pit sectional for her Florida Airbnb that was on a golf course and her typical guests were high profile, baseball players!
Obviously for her having high-performance fabric was a must especially since she was obsessed with white!
The most important thing to remember when choosing Modular Pit Sectionals is to measure out your space and make sure you have a floor plan done to scale.
The worst thing that could happen is it doesn't fit in your space when it is delivered.
It's a nightmare for you, the delivery team, and the store!
Just saying no one likes when this happens so to help avoid it make sure you measure before you purchase.
Also, do look at your high-performance options when choosing any sofa.
Two names to look for are Revolution and Crypton.
I talked about Revolution Fabric yesterday but Crypton is another amazing fabric.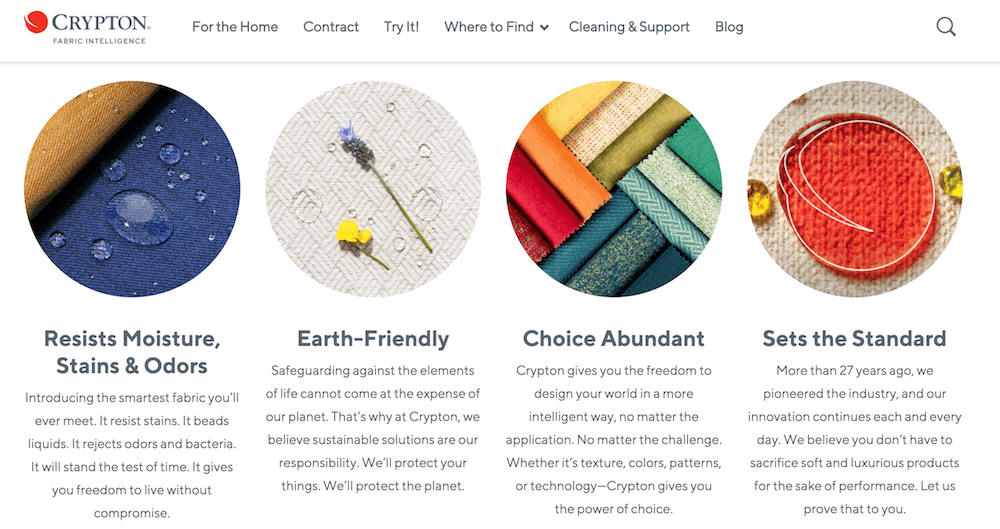 I LOVE this fabric so much!
It is really cool watching the liquid bubble up when poured on the fabric which it totally repels.
High-performance fabrics are great because they give you peace of mind especially when you LOVE lighter colors.
I mean who doesn't love a comfy white sofa?!
Side Note: Ask if the modular sectional comes with sectional connectors to attach the pieces together so they don't move around once in place. These can also usually be removed if needed to create new configuration options.
Be sure to come back tomorrow for modular sofa options that are not in the pit category.
Again this would up being a three-part series so the information can be absorbed in chunks.
Let me know in the blog comments your favorite so far!
Have an awesome day full of Unicorns and Rainbows!
xo Nicole
---
For more shoppable designs check these out from my Like To Know It page.