Please Note: This post may contain affiliate links, which means that if you make a purchase, I might make a small commission at no extra charge to you. I only recommend products or services I believe will add value to my readers. Please read my full disclosure for more details.
Now that we are full force in graduation season we need to start thinking about that dorm room and how we are getting everything to Hawaii.
As I mentioned in a previous post we will bring some things over in the suitcase, ship items, and then purchase on the island when we arrive.
Having done this once before with my son Quimes who went 2 hours away to Marist I know as long as we have the essentials and the overall theme/ decor prepared we can always purchase more after move-in day.
So what does that theme/ decor look like for Bella?
For the most part she is not a super girly girl and likes her space pretty simple.
I asked her to start a Pinterest board which she did and this is what I have to work with so far.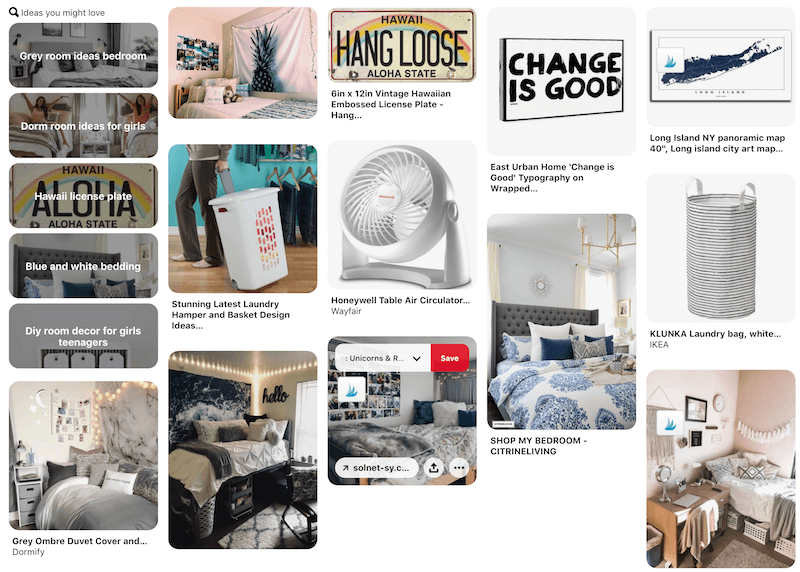 So much right?!
Bella's current bedroom decor is very neutral with a gray and white color scheme.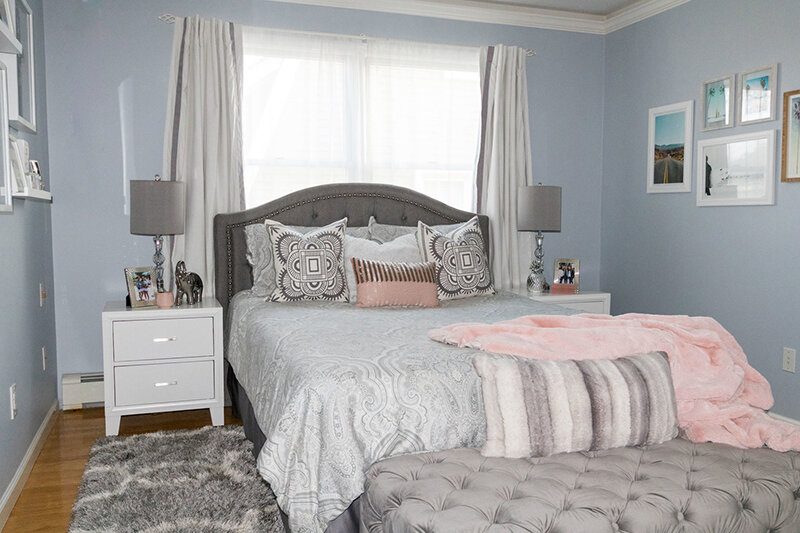 Unlike me she is anti-gold so only silver accessories were allowed but she did go for the accent color of blush pink which I added in small doses.
For her dorm room she would like a similar color scheme but wants navy to be her accent color.
Bella is super close with her friends from both Wantagh High School and her All-Star Cheer gyms.
She plans to bring over this picture holder when she goes in August.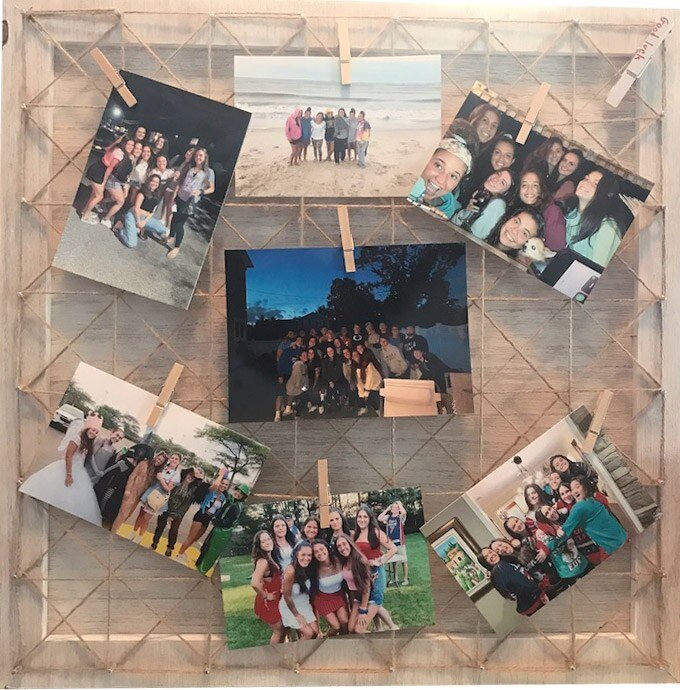 Here are similar products for anyone interested.
Other than that we are starting with a blank slate.
How this most likely will look is I will source the options and she'll make the approvals.
She usually does not get overly involved in the sourcing process but we'll see how it goes.
Maybe she'll surprise us this time around!
To start the process I have been scoping out the college dorm room lists online to get a general idea of what she may need.
Sharing those lists here:
As you can see it is very easy to go overboard when it comes to dorm room shopping.
So I printed the HPU list and asked Bella to highlight the items she thinks she needs.
At the current moment 8 pm on Friday night she has gone to bed and the list is still next to me.
That said tomorrow is another day and we'll see if it happens then.
I'm very used to waiting for the last minute in life (I like to feel the pressure) so I'm ok with the current situation.
Sidenote: The flight is booked for August but NOT the hotel/ Airbnb.
I'm not worried though because are people really traveling much right now?!
Anyway, I invite you all to follow along in the journey of mission "Get Bella's ass to Hawaii with everything she needs".
Stay tuned for a future post where I'll share some of the resources and products we are scoping out.
BTW If anyone has started this process for your High School Grad do share what you've found as well.
I hope everyone has a great night full of Unicorns and Rainbows!
xo Nicole
---
For more shoppable designs check these out from my Like To Know It page.
Note: My blog periodically contains affiliate links meaning that if you make a purchase, I might make a small commission at no extra charge to you. Purchases made through them are greatly appreciated.
---