Please Note: This post may contain affiliate links, which means that if you make a purchase, I might make a small commission at no extra charge to you. I only recommend products or services I believe will add value to my readers. Please read my full disclosure for more details.
Are you looking for glam home office items that will actually make you more productive? Here are my favorites to update your workspace?
This post may contain affiliate links, which means that if you make a purchase, I might make a small commission at no extra charge to you. Please read my full disclosure here.
Glam Home Office
That is provided you are a LOVER of GOLD like me obviously!
So let's assume that you are and because of the current COVID-19 situation you are now forced to work from home.
There are many ways that adding newness or updates to your current office decor can make you more productive.
For me, I just love pretty things that are unique and special.
It doesn't have to be anything big.
I mean just using my gold paper clips though out my workday makes me feel happy.
I would love nothing more than to do a full makeover of my current office but for now, I'll settle for a few cute updates to brighten my day.
If you are ready for more than just gold paperclips here are a few of my favorites from Amazon to help you be more productive.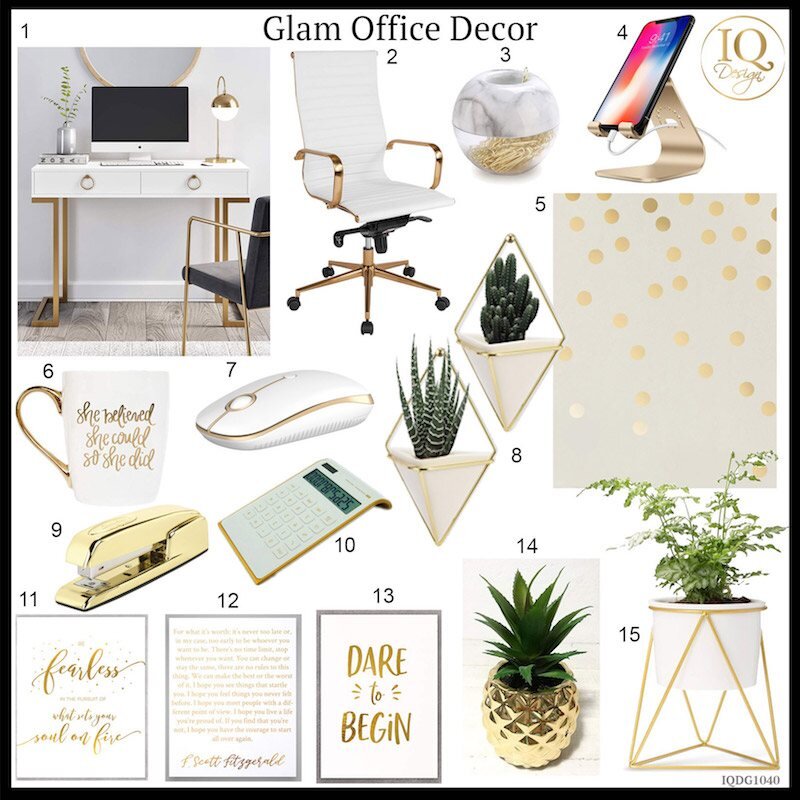 Glam Home Office Items To Inspire Productivity
1. This white desk with gold accents is the perfect size for that smaller glam office workspace but will keep you motivated to keep organized. There are two pullout draws for your smaller items so they can be stored away until you need them.
2. We are loving this trendy office chair again white with gold accents. It's super comfy which is important especially for those who find themselves sitting for long periods throughout the day.
3. Gold and marble paper clip holder because we just need this adorable gold office decor in our life no?!
4. Now one of the things we've been hearing a lot lately is the key to being productive is to have periods of time throughout your day where your phone is in airplane mode. This cute cell phone stand will help you put your phone down for a bit so you can work on achieving those dreams!
5. These polka dot gold decals are listed for a baby room which would also be cute but imagine them chilling on your office walls! This is one way to add a bit of personality to your home office wall decor. It will give it a fun and happy vibe. Who wants to work in a serious uptight office anyway?!
6. This super cute motivational mug is the perfect unique office decor. "She believed she could so she did" because we all have those days that we need to remind ourselves we are Rock Stars and can do anything we put our minds to!
7. Gold mouse because well Why Not?? Lol
More Awesome Glam Home Office Ideas
8. White with gold trim calculator because if math is not one of your Super Powers like most creatives you are just going to need this.
9. Wall plant holders because adding plants into your office will help brighten your day! It just will trust me. Plus it will look super trendy and cute! : )
10. Motivational Message Poster Wall Decor – "Be Fearless in Pursuit of What Sets Your Soul on Fire" Inspirational Decal Quote – 8 x 10 Inch 600 gsm Thick Matte Paper, Real Gold Foil Letters again for those days you need a little inspiration!
11. For What It's Worth: It's Never Too Late – Gold Foil Art Print- Inspirational Quote Modern Wall Art because it REALLY is NEVER too LATE!
12. Dare to Begin art because this literally is the hardest part. Once you DECIDE to make a change you WILL find a way to make it happen. One baby step at a time each day!
13. Gold stapler because look how cute and no joke this will have you feeling like a Badass every time you pick it up!
14. This Pineapple plant on your desk will just make you SMILE each time you look at it. It just will Trust Me!
15. White with gold plant stand because there is going to be that empty spot in your office that you need to fill and this will look awesome anywhere it goes!
So there you have it 15 items to help you Glam up your Home Office and be more productive today!
Let us know which is your favorite in the comments below!
STAY HEALTHY AND WELL ALL!!
xo Nicole
Related Blog Posts:
Note: My blog periodically contains affiliate links meaning that if you make a purchase, I might make a small commission at no extra charge to you. Purchases made through them are greatly appreciated.