Please Note: This post may contain affiliate links, which means that if you make a purchase, I might make a small commission at no extra charge to you. I only recommend products or services I believe will add value to my readers. Please read my full disclosure for more details.
Do you have a senior who is missing out on the milestones of graduation?
I feel your pain!
My daughter Bella already had a Senior Drive-By around the school to say goodby to her teachers last week which was weird but cute.
Quick TikTok video from the day of Bella (gray HPU tee) and her friend Gianna (white tee).
This week Bella will be having a drive-by graduation ceremony and that content will be included in the virtual graduation ceremony we will watch on June 12th.
According to the email, this is the plan:
To prepare for the virtual graduation there will be a photography session and an opportunity to walk our football field.
Instructions:
Each student should create a sign displayed on the driver side door that clearly states their name

Each student will be given the opportunity to have 3 photographs taken

Arrive at your scheduled time (scheduled by last name, first initial)

Wear Cap, Gown, Tassel (to be delivered to your home either Monday or Tuesday)

Dress Appropriately (Boys: shirt, tie, nice pants, and shoes Girls: no heels)

Practice safe social distancing at all times

After 1st photo, family members must stay in the car
There will be a photo taken of the student and the parents at the school sign.
We will then drive to the next photo station near the football field.
The graduate will be directed to exit the car, walk to the photo area on the field, hear their name called on the public address system, and have two photos taken.
The student will receive a diploma cover and recognition by school personnel.
They will get their actual diploma at the conclusion of the school year.
YES! This is what our new normal currently looks like!
CRA CRA I know.
To make the day and current situation a little special for my daughter (who is not super emotional) I have been researching cute ideas.
Here are some of the things I'm currently stalking!
---
Like To Know It Board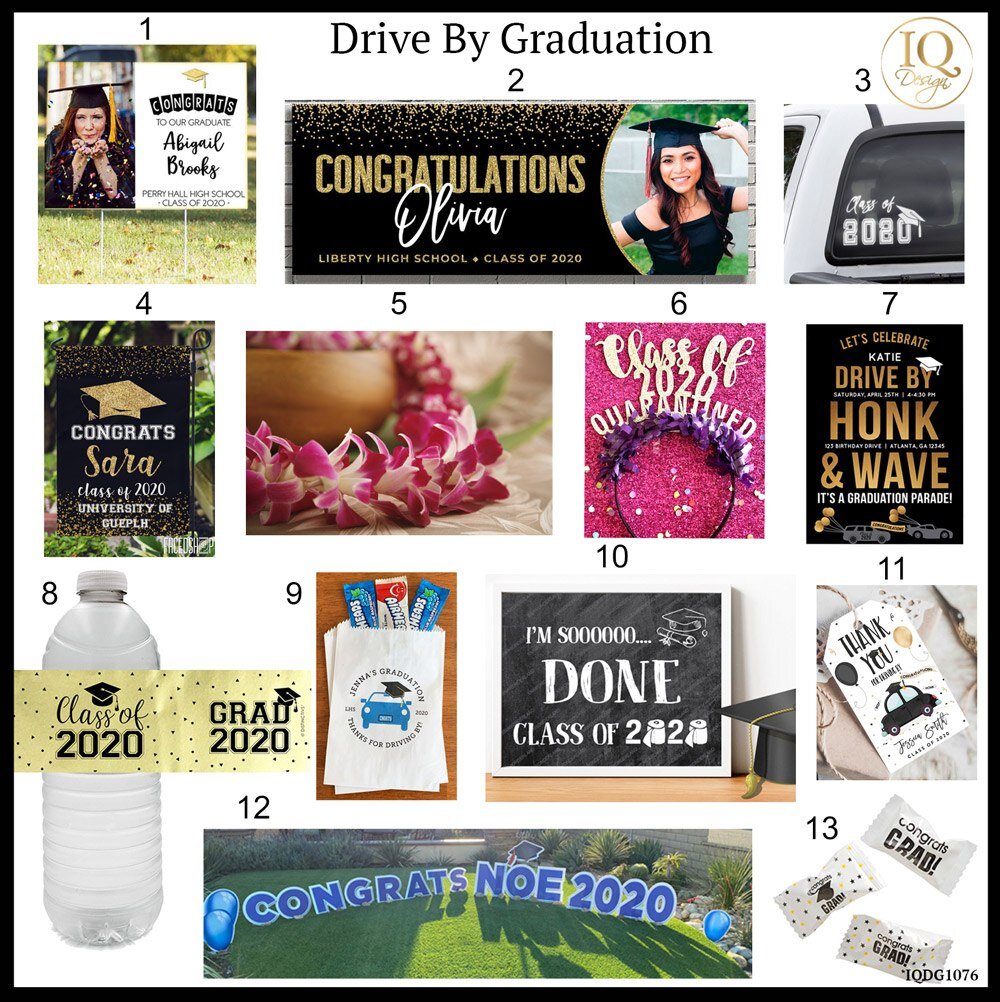 ---
---
Class of 2020 Graduation Drive-By Ideas:
As usual, I saw so many other fun ideas I've included the extras in the links below.
---
Product Link Details + Extras:
---
Let me know if you have a Class of 2020 grad and what you are doing to make them feel a little special.
Have an awesome night full of Unicorns and Rainbows!
xo Nicole
---
For more shoppable designs check these out from my Like To Know It page.
Note: My blog periodically contains affiliate links meaning that if you make a purchase, I might make a small commission at no extra charge to you. Purchases made through them are greatly appreciated.